In the previous section (above) you can see we've managed to achieve 100% 5 star reviews from our online bookers – here are some submissions from guests who stayed with us and left messages our paper guestbook.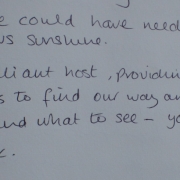 "Nigel was a brilliant host, providing answers to all our questions, maps to find our way around and recommendations for where to go.."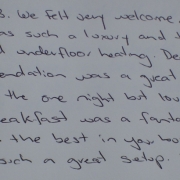 "The bathroom was such a luxury .. underfloor heating… Dee's seal recommendation was a great suggestion"
"The breakfast was first class – the fruit being particularly lovely. Wonderful cooked breakfast too!"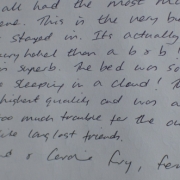 "More a small luxury Hotel than a B&B! … bed was so comfortable rather like sleeping on a cloud!"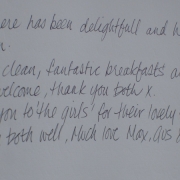 "Spotlessly clean, fantastic breakfasts … thankyou to the girls (our hens) for their lovely eggs"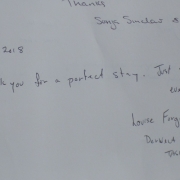 "Thank you for a perfect stay.  Just wonderful – everything."
Maybe you can like us on Facebook here?